We offer a modern heavy equipment fleet which includes excavators, bulldozers, articulated rock trucks, and compactors.
Excavators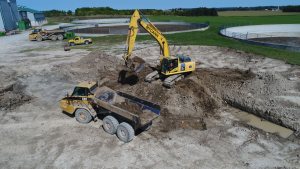 Heavy equipment working on site
Range in size from 5 tonne to 40 tonne with digging depths of up to 25'.
All units equipped with grade eye technology for precise and economical grade excavation
Units with zero turn capabilities – ideal for working in tight locations.
Unit with rubber tracks for causing minimal damage while working on existing hard surfaces.
Numerous attachments available including breakers, pulverizers, thumbs and hoe packs

Dozers
Range in size from 10 tonne to 50 tonne.
Units equipped with GPS technology making them optimal for highly influenced grading projects.
Larger dozers ideal for large earthmoving and site work projects
Units with 6 way blade configurations necessary for grading of floors, parking lots, and roadways.
McCann Redi-Mix operates modern mechanic, welding and paint shops with licensed employees in order to keep all equipment and projects running efficiently.